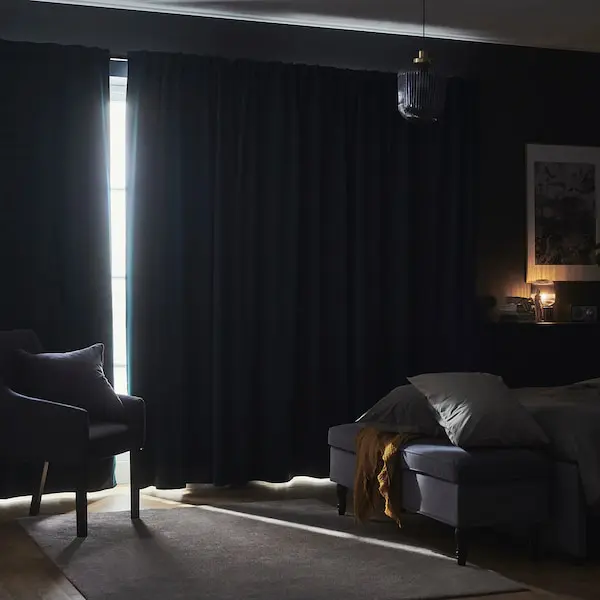 To many, curtains are associated with an older and out-of-date design that is too heavy for today's more modern and contemporary home and business designs. With their sleek yet dramatic folds and sway, many make the mistake of overlooking this window treatment option. But we have news to break, curtains have long passed their time of being solely decorative and possess multiple ways to be able to help you and your interior design.
 The new up-and-coming interior design and window treatment is the blackout curtain. This curtain innovation is not only simple and aesthetic due to such, but as well highly effective and useful, serving not only complete light control but as well saving your summer and winter electricity bills by keeping your air conditioning circulation within your living space. In this blog, we'll go over everything you need to know about the popular blackout curtain and we'll leave it to you to decide until the end whether you think this is the suitable option for you. 
What are Blackout Curtains?
So as you've probably guessed by now, blackout curtains are effective at blocking out light, regardless of whether it's the strong sun rays, or even street lamps and car head beams that may be disturbing your movie or sleep. An extra plus that you probably didn't guess is that blackout curtains are angels at keeping outside noise at bay, whether it's cars, construction, or trains.
Why would I need them?
Blackout curtains are the best friend of people who value both their sleep, darkness, and quiet. Theses are especially popular choices for those who work night shifts and sleep throughout the day, parents to babies or children, or travelers and people who move around a lot and have severe jetlag. 
As mentioned above as well, these curtains can as well save you on your electricity bills as they can trap your cool air in during the summer months, and thanks to the thermal blackout lining, it helps keep your warm air in during the brittle cold months of New York. 
"3 Pass" blackout technology
The absolute level of 'blackoutness' is measured by something called 'passes.' Blackout curtains are as powerful as they are thanks to layered lining coated in the backside of the curtain in thin layers. Three pass means that there is one coating of white lining, then followed by a black one, and so forth which creates the curtain that we all know and love. Why the white layers you may ask? The white properly distribute the black, while the black of course blocks the light and retains your air conditioning by doing so.
Contemporary Herringbone
Add some color to your home with thermal curtains. The three-pass lining means that your room will be free of any sunlight when you desire darkness, and of course, the eyelet header means that you can hang your curtains whenever you would like. These drapes are the perfect and ideal fit for contemporary bedrooms, theater rooms, studies, and living rooms alike.
Keeping it Sleek & Simple
Natural Linen Plain Blackout Pencil Pleat Curtains make the perfect fit to any room with their stark neutral and bold shade making any room classically aesthetic. The drape's three-pass acrylic coating provides shelter from the strong sun rays, but also keeps your in-room climate under control based on your preference, regardless of whether you use it in your bedrooms, office, or even restrooms, you will be satisfied with its maximum versatility. 
Red and Bold
For a striking and hot blaze to your room, try wine-red curtains and give your room a dramatic aesthetic touch. The 3-Pass coating is as well a reality for these curtains, as they will protect you from all of the elements. 
Sunny Chevrons
With brighter colors such as yellow or mustard yellow, you can feel the pleasantness of a sunny and summery day without any sun or summer. These bright and joyful curtains have a beautifully headed which provides a classy and magnetic look to any eye. These curtains are far more versatile than just with their protective shade and temperature qualities thanks to their three-pass coatings, but as well prove their versatility by virtually fitting anywhere in your home. 
The Advantages of Blackout Curtains
Blackout fabric is capable of blocking virtually all light out from a room. Its the ideal for cinema rooms, or generally any media room along with bedrooms—this is a very famous choice in hotels. Blackout fabric is as well a very common commercial option as it can prove as an ideal backdrop for school photos, entertainment studios, and offices being a very wide and versatile fabric that is everything you may desire from your window treatments especially being useful.
Insulation
Thanks to the curtain's tightly woven fabric, blackout curtains are perfect for insulation. These curtains can effectively block out any light together with protecting your home cool during the summers, and warm during the winter months.
 Noise Cancellation
Along with insulation, blackout curtains, and their thick three-layered fabric can effectively cancel out noise pollution easily. This is the ideal solution to homes or offices situated near places with high noise pollution, such as highways, busy downtown streets or train tracks. 
Privacy
Blackout curtains don't only block out all sunlight, but as well successfully protect your privacy thanks to their heavy and dark fabrics that make a 'mirror–effect' for all those who try to look in when closed. 
UV Ray Protection 
As we may all know, the sun in moderation is good, but if it constantly burns on one spot recurringly, it can damage and affect everything from your furniture to your skin. Many of its effects are not even considered, such as causing the paint to peel and fade, and destroying wood and other furnishings around and about. Sitting for too long in the sunlight can, of course, damage your skin as well if the proper percussions arent taken, the proper percussion for your home in this case is nothing less than blackout curtains which can protect you and your home from sunlight UV excessive rays. 
Types of Blackout Curtains
Just as shades and blinds come in different variations and designs, blackout curtains are no exception. These curtains can as well be customized to fit perfectly based on your preferences and likings, below are some examples of the different curtain types.
Thermal Curtains
Not all fabrics have been created equally, such as the blackout thermal insulated curtain. One of the best options for blackout curtains is this thermally insulated curtain, which can control heating and in-room temperatures. The result is ultimate room climate control, as the summers are suddenly cool and refreshing and the winters are warm and cozy. 
Flame Retardant Curtains
Flame retardant curtains are commonly found in hotels, hospitals, and other locations that see many people and many events. To protect your business, customers, and employees, this option can save lives. Let's hope these curtains won't have to be put to the test. 
3D Blackout Curtains
As blackout curtains are famous for their vast versatility and options, many ironically dislike their bland dark properties and lack of decoration. Luckily for you, 3D curtains are becoming a growing favorite in which you can add a touch of spirit to your curtains and by doing so, to your rooms. 
Amongst the many reasons people adore blackout curtains, their customizability of them is a prevailing selling point. From flame retardant to moisture resistance, you can change the patterns and level of blackoutness. 
Conclusion
While curtains generally serve many purposes, amongst them decoration and room design, they also have incredible properties that can make your life more comfortable. From incredible insulation to flame retardancy and noise dampening, the blackout curtain is the most functional curtain one can consider with its modern technology, versatility, design, and effectivity. We hope this blog was insightful in helping you understand everything you needed to know about blackout curtains. 
Here at Urban Window Treatments, we take pride in our professionalism. We sell in the highest quality and service with the maximal service. With both of those values in mind, Urban strives to deliver the best possible experience to our customers. Your happiness is our success. 
Still unsure? 
Work with our professional designers for your in-home consultation or at our workshop, and together, we can provide your space with the perfect window solutions that will transform your room into your vision. 
Contact us today and we'll take it from there!
239 E 80th St New York, NY 10075
+1 (800) 338-0385
+1 (212) 796-0470
+1 (646) 246-6604